WHAT'S HAPPENING AT CALVARY
Sundays at 10:00AM Online and In Person
Weekly | Following service
NOVEMBER KITS WILL BE DISTRIBUTED
THE SATURDAY BEFORE THANKSGIVING
11/19/2022 11:00AM – 1:00PM (while supplies last)
Free hot meal.
Anyone is welcome, whether you need a meal or just don't feel like cooking.
5:30pm-7:30 p.m. the SECOND Thursday of the Month.
Rear parking lot. While supplies last
Wednesday Advent services
6:30PM Wednesdays through Advent in the Chapel
Psalms, prayer, Holy Communion
First and Third Sundays | 6:30pm

November's gatherings will be at Morgan Chapel UMC, Woodbine
6750 Woodbine Rd, Woodbine, MD 21797
During "A Main Street Christmas" Parade

Click to help!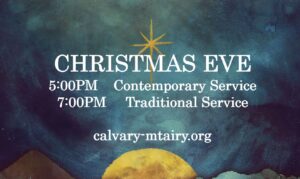 Thursdays 7:00 PM | 403 South Main Street
"The Gospel of Matthew: Putting our faith in Jesus Chirst"
Starting weekly on Sundays October 2nd during Faith formation
And a second weekly opportunity on Wednesday Mornings at 10:30am
Sunday Morning Faith Formation
Going Deeper in Scripture
scripture for the week and further explores the current week's sermon.
TGIS (Thank God It's Sunday)
Rotating studies | via Zoom and in-person
Send a prayer request in to our Prayer Team. Option to leave your name or remain anonymous.