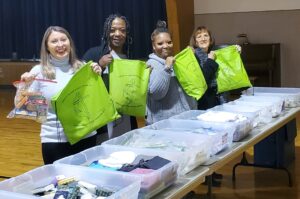 Blessing Bags are filled with much needed items such as personal care, first aid, socks, snacks, water, and other items.
We encourage you to keep a bag or two in your car to hand to those who are in need.
We welcome donations of items to include in the bags in a bin on the second floor hallway.
Commonly requested items:
Tuna/chicken Salad Cracker Kits

Juice Boxes

Fruit cups

Pudding cups

Granola or cereal bars

Cheese cracker sandwiches

Peanut butter cracker sandwiches

Toothbrushes

Travel size tissues

Washcloths

Band-aids

Hand sanitizer, travel size

Chapstick

Warm socks

Combs

Deodorant

Gallon size freezer bags