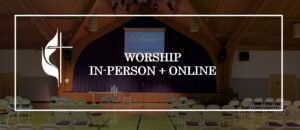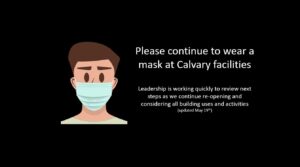 Calvary asks that facility users continue to wear masks while in the facility.
Calvary leadership continues to evaluate the path forward regarding building use,
masking, and various activities within the facility.
We greatly appreciate your patience and grace as we work quickly to discern our next steps.
Pre-registration no longer required!
When:
Getting there:
403 South Main Street, Mount Airy, MD 21771. Enter from Main Street and proceed up the hill to the right of the church or enter from Paradise Avenue.

Please park every-other spot to allow for socially distanced loading and unloading

Let the greeter know if you need a closer parking space

After parking, enter through the rear double doors. Greeters will be there to hold the door for you. Welcome!
What to bring:
MASKS REQUIRED (2 years old+) and must be worn from your car to when you return to your car. Masks will be made available to those who not have one.

If you like to have a bible available during worship, please bring one with you
What to expect:
There will be no singing at this service. Music will be pre-recorded vocalists as well as live instrumentals
Please refrain from handshakes and hugs
Speakers will remove their mask while at the microphone.

Seating areas will be spaced for social distancing

Dress casually

Service will last approximately 35-40 minutes

Please limit one person in the restroom at a time when possible

Children must remain with their caregiver during service

We have several electronic giving options. There will also be instructions for in-person giving during service.
Communion (first Sunday of each month):
Communion will be served with a sealed cup and bread.

Ushers will distribute the communion elements

Those who partake in communion will, at the Pastor's direction, lower their face covering in their seat to partake in communion, then return their face covering.

Following communion, ushers will come by with trash receptacles for you to place the cup into

Information about communion in the UMC can be found here
Children:
Kids are very welcome at Calvary, and we don't expect them to be silent or still.

We aren't quire ready for children's Sunday School. Sunday School involves both facility and volunteer concerns, as well as a number of parents who aren't ready for their kids to be involved or to volunteer as teachers. If you have questions about this, or some ideas on how to move forward with children's ministries, please let us know.
I still have questions!
When? Where?:
Sundays at 9:00AM on Facebook
This service will be live-streamed at the
Calvary Facebook Page
Please bear with us if there are technical difficulties. We will upload a recording of the service later in the day to our
Online Worship page.
Those currently receiving DVDs of our service will still get a copy. We hope to add a YouTube live stream option in the near future.
A Facebook account is not required to watch the Live video
What to expect:
The service is a livestream of our in-person service. In some cases we may not stream certain aspects that would not translate well to the online visitor (such as receiving communion).
We have several electronic giving options. There will also be instructions for in-person giving during service.
I still have questions!