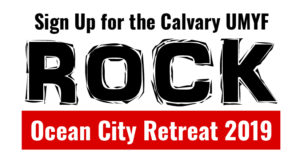 ROCK Ocean City Retreat – February 8 – 10th
Spend a weekend listening to great speakers, going to breakout sessions, and hanging out with your youth group friends in Ocean City. This year's conference will again be held at the Ocean City Convention Center in Ocean City, Maryland during the weekend of Friday February 8th – Sunday, February 10th, 2019. Both Middle and High School youth will be attending the ROCK Conference put on by the Baltimore Washington Conference of the United Methodist Church. Click here for a permission slip.
UMYF
(United Methodist Youth Fellowship)
The McCann family has teamed up with Calvary's UMYF to start a blessing bag ministry in memory of their son and brother, Ryan Joseph McCann. Ryan was outgoing, funny and caring. He was always able to bring a smile to the face of anyone he met. We would like to continue to share his joy through this ministry.
A blessing bag is a gallon size Ziploc bag filled with food and personal items that you keep in your car and give to hungry and homeless people when you see them on street corners asking for help. The bags contain a variety of items such as: toothbrush, toothpaste, one size fits all gloves, chapstick, soap, washcloth, warm socks, hand cream, comb, Band-Aids, deodorant, mouth wash, nail clippers, hand sanitizer, crackers, fruit or pudding cups, granola bars, juice boxes, small bottles of water, $5 gift card to a fast food restaurant.
If you would like to help with this ministry, you can:
pray for the homeless and those who grieve
donate items to make blessing bags
or distribute blessing bags.
There are two bins in the Upper Narthex outside of Room 208 (Senior High Room). One bin is for donations; the other contains completed bags you can pick up to distribute. If you would like to dedicate a bag to the memory of your loved one, please complete a label that can be found near the bins.
We are excited about this new ministry and the opportunity to be the hands and feet of Jesus.
Worship Evangelism Relationships Outreach Caring Knowledge
Our mission is to create the opportunity for youth to gather in the name of Jesus Christ where we offer fellowship with acceptance to all. We praise our loving God, we share issues relevant to today's culture with respect to our faith, we learn more about the Bible and its teachings, and we hope to grow in our relationship with God and each other.
What is Calvary United Methodist Church Youth Fellowship?
It is a ministry for, by, and with the youth of Calvary UMC between 6th grade and 12th grade. It includes all activities and ministries in which our youth are participating.
The Youth Ministries at CUMC include but are not limited to the following:
Mid High Sunday School (grades 6-8) at 9:20 a.m. Sunday mornings in Room 207
High School Sunday School (grades 9-12) 8:30-9:15 Sunday mornings in Room 208 (on opposite weeks of youth choir). Breakfast will be served. Join us for open discussions about the bible and what it is saying to us about our lives today.
UMYF (United Methodist Youth Fellowship) for grades 6-12 from 6:00 p.m. to 8:00 p.m. most Sunday evenings.
Volunteers are needed each week to serve dinner to our youth. Please click here to sign up to provide dinner. Reimursement is available up to $125 with receipts.
Various music groups
4 County Teen Community Bible Study Tuesdays 6:30 p.m. to 9:00 p.m.
Keep Informed
This Youth Ministries page will have links to all the information you need for upcoming events and the forms you need to participate.
Informational bulletin boards in the youth rooms (207 & 208)
Stay Connected by Joining Our Facebook Page, just……… 1.) Search Calvary Mount Airy UMYF and 2.) Click on join group