Thank you for your interest in outdoor worship!
Join us October 11th (TIME TBD) in the upper parking lot for outdoor worship!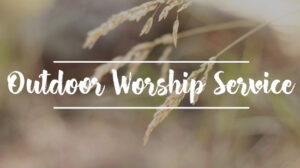 Getting there:
403 South Main Street, Mount Airy, MD 21771. Enter from Main Street and proceed up the hill to the right of the church or enter from Paradise Avenue and greeters will assist you

Parking will be every-other-spot

Let the greeter know if you need a closer parking space

After parking, proceed to the upper parking lot with your chairs. Greeters will assist you with finding a spot to sit.
What to bring:
MASKS REQUIRED (2 years old+) and must be worn from your car to when you return to your car. Masks will be made available to those who not have one.
Bring your own chair (Lawn or camping style chairs. No chairs will be provided)
Prepare for the weather – blankets, hats, gloves
What to expect:
There will be no singing at this service
Please refrain from handshakes and hugs

Seating areas will be marked for social distancing

Dress casually (shorts are fine!)
Shaded spots are limited, much of the lot is sunny at this time of day

Service will last approximately 35 minutes

No restrooms will be available. No building entry.

Children must remain with their caregiver during service

We have several electronic giving options. There will also be instructions for in-person giving during service.
What about bad weather?
Check the Calvary Facebook Page and Website. Weather cancellations will be posted by 8:15 A.M the day of service
Will this service be live-streamed?
This service will be live-streamed at the
Calvary Facebook Page
Please bear with us if there are technical difficulties. We will upload a recording of the service by 11:00 A.M. to our Facebook page and our
Online Worship page.
Those currently receiving DVDs of our service will still get a copy.
I still have questions!
Sample worship layout